Honda R&D Americas (HRA) offers associates 40 work hours a year to volunteer in their communities. HRA's Vehicle Structures Operation (VSO) Department decided to build on this opportunity—literally.
"Habitat for Humanity was the perfect fit for our team," Jeff Sine, VSO's Group Leader for Reliability, said. "Because a lot of what we do in VSO involves building, this was a great way for us to apply our on-the-job skills to benefit an organization outside of the company."
On selecting Bellefontaine near HRA's Ohio Center for their activity, Sine said that it was an easy sell to the entire VSO group, all of whom were excited to take on the challenge and make a big, local impact.
"Our schedules are very dependent on vehicles and test time, so we always had a feeling that we wouldn't get the chance to do something like this," Sine explained. "We were very fortunate to have our manager's support."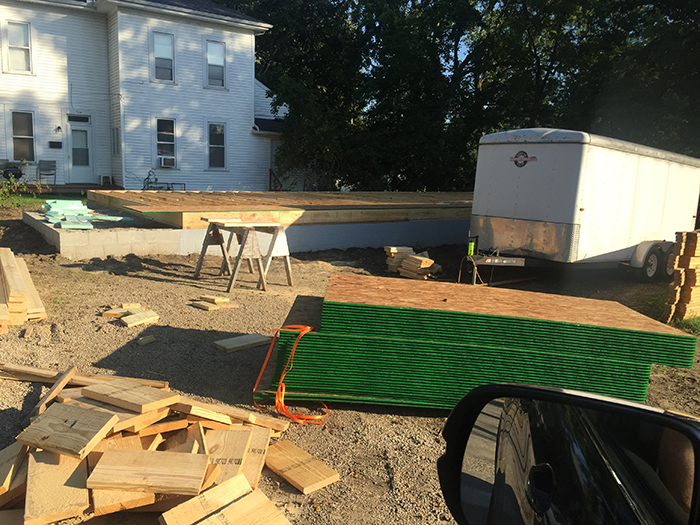 The build site looked pretty bare before VSO got started.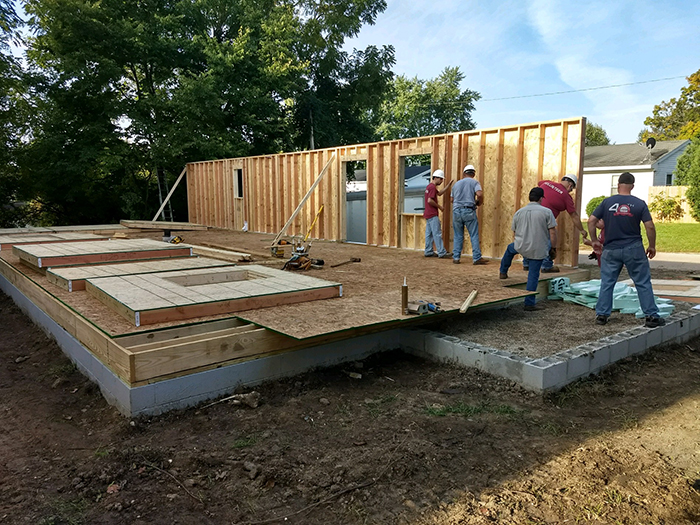 VSO began by first erecting the house's walls.
The Habitat project, targeted for a March 2019 completion, included almost every associate from VSO. Because the department has various subgroups, the activity allowed associates to work with people they don't typically come across. It also inspired greater comradery.
"I really enjoyed getting to volunteer alongside my coworkers," said Howard Thompson, who helped erect walls at the build site on the first day. "We worked so well together because there were many similarities between the project and our work life, such as communication, which is necessary from coordinating volunteers to working with the site manager."
"I also think attention to detail and teamwork are important," added Brad Arn, Group Leader for Safety. "When you're on the job site, you forget about defined roles, and you just become people working together toward one cause."
Out of the 31 associates, contractors, and contingents that will have volunteered during the project, Sine said that many of the associates plan to dedicate their entire 40 hours to the build, spreading out their volunteering to see the project through to completion.
"You really understand the joy of creating," Thompson said. "It's amazing to watch the project progress through the different stages of development and realize you're helping someone achieve something they otherwise wouldn't be able to."
And this realization is a first for many members of the VSO team. With experience levels ranging from 10 to 25 years, Arn admitted that this is the first volunteer activity to which their department has contributed.
"It's something we wish we'd done a long time ago," Arn said. "Honda is putting its foot forward, and it is our obligation to carry that out."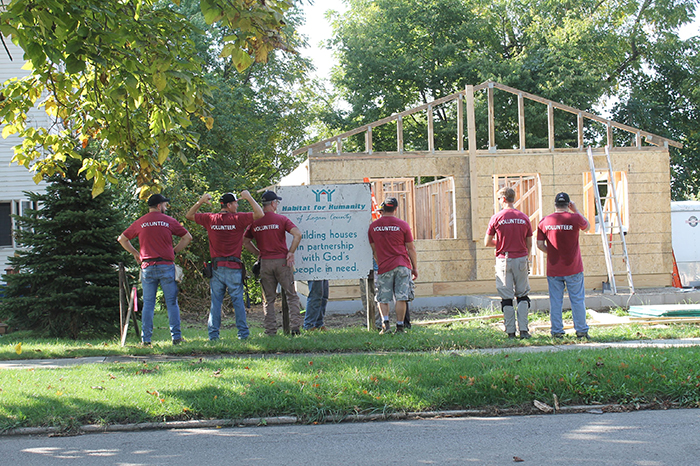 The second round of volunteers prepare for another day's work.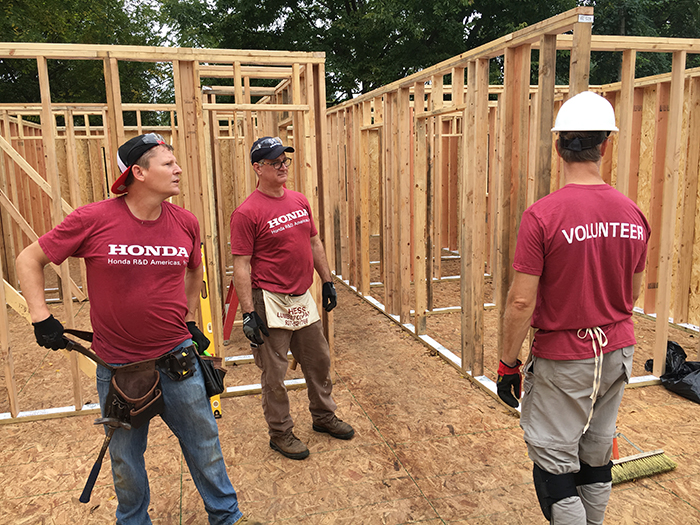 Department Manager Tim Savage (center) joined the build site to support VSO Safety Group Leader Brad Arn (left), VSO Engineer George Twaddle (right), and the rest of the team.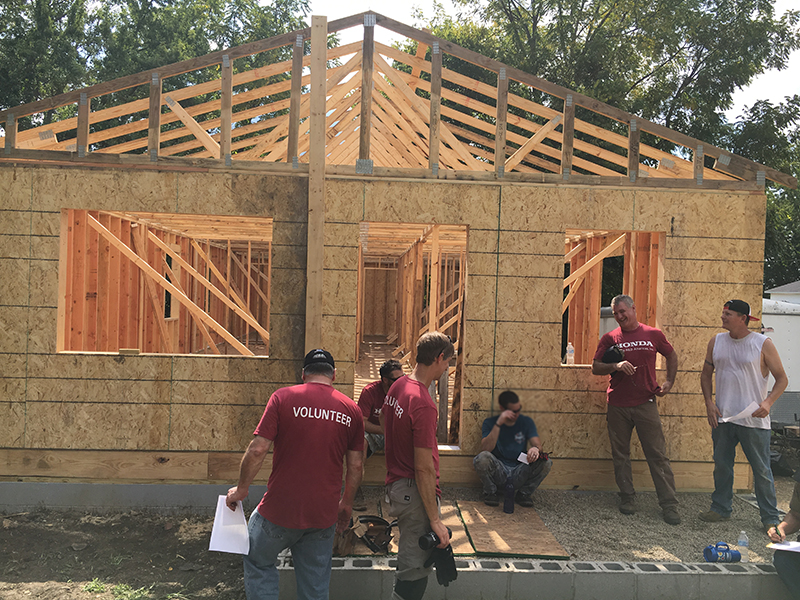 Volunteers take a break before tackling the roof.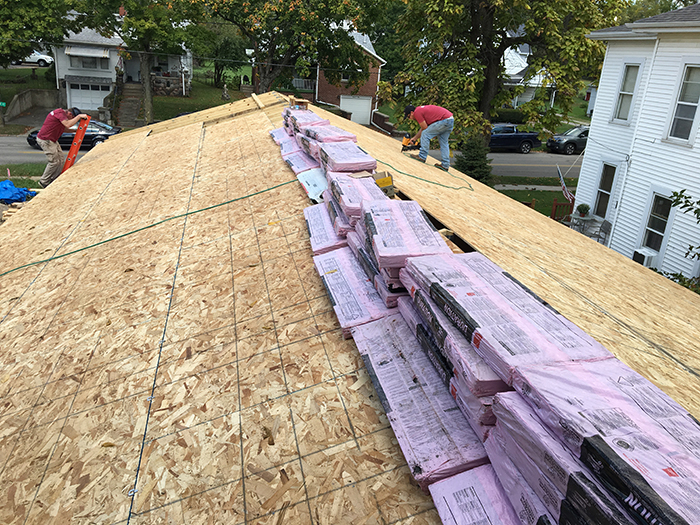 Volunteers topped off their engagement so far by preparing the house for shingles.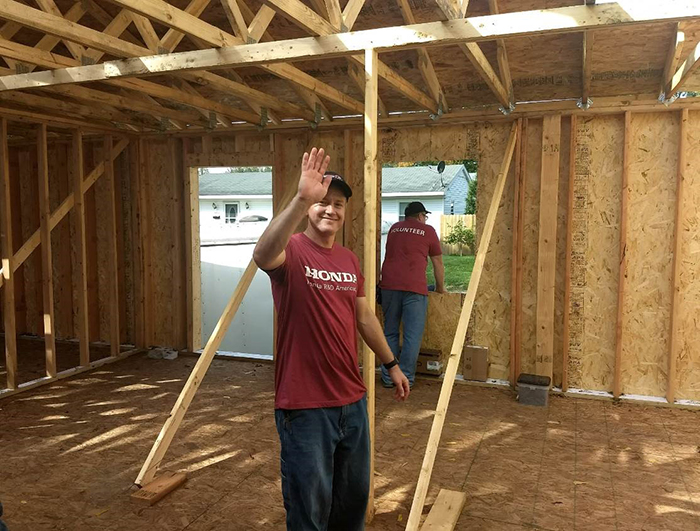 VSO's Jeff Sine signed off with a wave, as the team and he completed their first round of volunteering.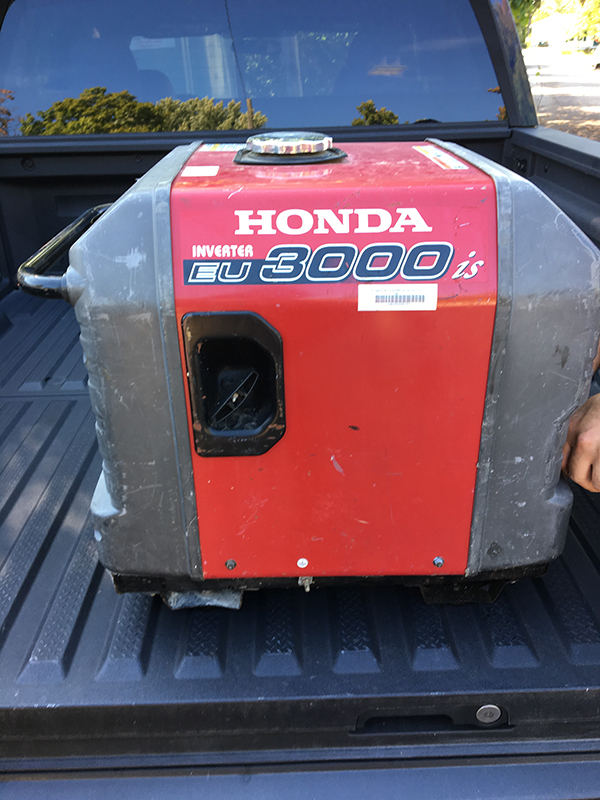 A Honda Generator used at the build site helped power associates forward.
Excited to continue helping community members in need, the team plans to participate in a new build project every year.
According to Sine, everybody that has volunteered so far is excited for their next opportunity, having developed strong ties to the site and the people they met along the way. The soon-to-be homeowner told the group to come say "hi" even after the project is finished, a gesture that illustrates the bonds established throughout the project.
It's a friendship, a home, and a future that VSO helped create with Habitat for Humanity by doing what they do best: using their knowledge and skills to create a better future.