The Steel Market Development Institute (SMDI) grants its Men and Women of Steel Awards to individuals whose innovative applications of steel benefit society. And this year's winner, Honda R&D Americas' Joe Riggsby, was indeed a super candidate for the honor.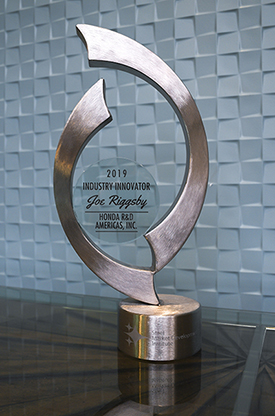 SMDI created the Men and Women of Steel Award five years ago to recognize industry innovators, whom it defines as vehicle designers or engineers who identify and address challenges and advocate for the use of new grades of steel as the solution.
Riggsby, the Upper Body Design Manager and Body Development Leader for the 2019 Acura RDX, has been a long-time collaborator with SMDI. He supports the "Great Designs in Steel" program and shares his unique engineering perspective on how to use steel to design safer, higher-performing, and more cost-effective vehicles.
"I'm honored to receive this award," Riggsby said. "It is really more a recognition of my team and their abilities to develop and execute the concepts with a focus on quality and a constant consideration of our customers."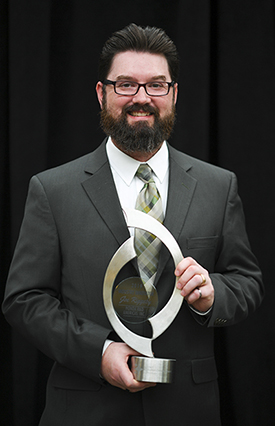 In developing the 2019 RDX, Riggsby and his team utilized advanced grades of steel and designed the world's first inner and outer door-ring system made from ultra-high-strength steel (UHSS). Overall, more than 50 percent of the steel used in the RDX is UHSS. And for Riggsby, that achievement marks his second world's first, the first being the one-piece front door stiffener ring he and his team developed for the 2014 Acura MDX.
But it was the door-ring system on the RDX that led to Riggsby's being named this year's Man of Steel. During a special ceremony yesterday in Detroit, SMDI will donate $2,500 in his name to the SAE Foundation.
For Riggsby, SMDI's honor is a validation of both the RDX's record-breaking reception in the market and the opportunities and innovative ideas that Honda R&D Americas encourages associates to pursue.
"Honda has avenues for us to pursue things that interest us and things that will make people's lives better," he explained, "If you really believe in something and you're willing to put in the work, those around you will believe in you. And those ideas can become reality."
With a mindset like that, it is no wonder that Riggsby had both the skills and success to "steel" the show.