Above photo: Honda R&D Americas associate Nic Hammann gets ready to go in a go-kart race held in early August.
Honda's rich racing heritage isn't just for the big-time IndyCar or F1 spectacles. Earlier this month, Team Honda Research (THR) associates from Honda R&D Americas (HRA) competed in a small street race, not with cars, but with karts—an opportunity they consider quite huge.
Taking place in the village of Commercial Point, Ohio, the Commercial Point Karting Classic began in 1968. Unlike some of the other motorsports in which THR associates compete, karting typically takes place on a scaled-down circuit and uses open-wheel vehicles known as go-karts. In Commercial Point, the whole town shuts down, as the track runs through village streets lined with spectators.
"Kart racing is very tight and technical and requires a lot of precision," explained THR driver Nic Hammann, who focuses on vehicle ride and handling at HRA. "It can be more physical than other motorsports."
Indeed, a minor accident in the second lap resulted in THR placing ninth in the event. But for Hammann, fellow suspension development engineer Clifton Ching, and engine performance engineer Brandon Phillips, there was plenty to be learned from the excitement they had on the track.
"We use our on-the-job skills to help us with our racing, but our racing experience also teaches us more about our jobs."
The learnings they gathered from their quick engineering fixes, and the comradery they experienced with one another, will last well past their racing experience.
"Coming from an R&D background, we have team members with different specialties who can contribute," said Ching. "We use our on-the-job skills to help us with our racing, but our racing experience also teaches us more about our jobs."
Although the schedule kept them busy, the trio found time between rounds to study the track and make improvements to their kart, such as switching out tires, adjusting break bias, and changing gears.
Racing has always been a significant part of Honda's heritage, giving associates the opportunity to hone their engineering skills outside of the office, but also to use their racing experience to help them do their daily jobs. Through such events, associates are also able to create joy for themselves and for everyone who gets to witness the racing firsthand.
"It is so great to get to come to these events and represent Honda," Philips said proudly. "The kart community is very tightknit, so it's fun to meet other teams at the races and tell them more about us."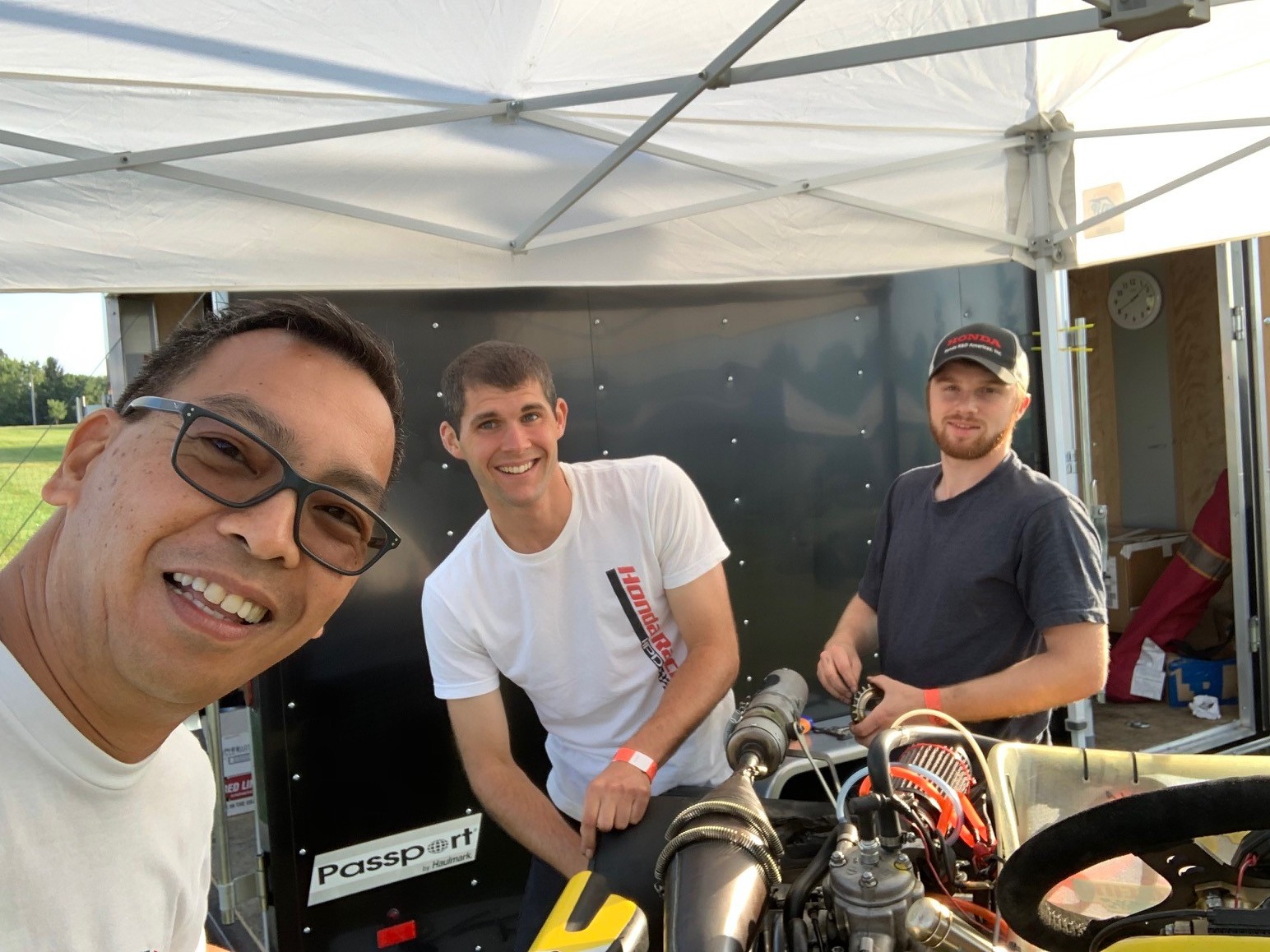 From left to right: Clifton Ching, Nic Hammann, and Brandon Phillips go for a selfie before they return to prepping their go-kart.
"Becoming a professional driver is a dream for many young children," Hammann, who has been racing since the age of six, added. "It's so great to work someplace that allows me to pursue both my racing passion and my engineering passion."
That place—HRA's Ohio Center—also has a racetrack in its own backyard where associates can practice their karting: the Transportation Research Center, the "largest independent vehicle test facility and proving grounds in the U.S." Such resources and opportunities are why THR team members always make it a point to let spectators—and the competition—know that they are proud to represent HRA and Honda.
"We always hoist our flag and do our best to promote Honda and our reputation," Ching added. "We've even come to be known as 'The Honda Guys.' We receive a lot of comments from other competitors about how lucky we are that our company empowers us to participate in events like this."
It's an empowerment that goes all the way back to Soichiro Honda himself, and his passion for racing. And it is still seen today, in IndyCar, F1, and even go-karts.