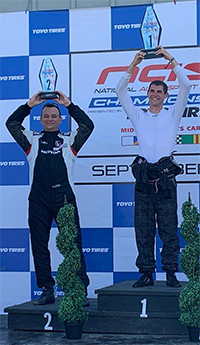 Associates at Honda R&D Americas, LLC (HRA) are never afraid to reach for the stars. Team Honda Research (THR) is no different. And as proof, they blasted off to the very top at NASA.
That is, the National Auto Sport Association (NASA), which hosted its national championship race this past month. There, THR competed against teams across a variety of racing classes from all over the country. As entrants in the Honda Challenge series, a class that requires each vehicle to use a Honda engine and chassis, THR associates took the first, second, and fourth spots out of a field of 17 competitors.
"People don't always think of Hondas as racecars, so the positive press at these events just helps to reinforce our brand," THR driver Nic Hammann said. "They can't believe the reliability that our production cars have on the track."
Pictured right: Jeremy Lucas (left) and Nic Hammann (right) raise their trophies high after a successful racing weekend.
While THR is keeping the fan base of older tried-and-true cars like the Honda S2000 alive, they are also drawing in new fans through the use of more recent products. Currently, they are driving the newest cars in a single-model class.
"People see these modern Hondas, and they're interested," explained Ben Linfield, THR's driver of the brand-new 10th-generation Civic. "In the class that we run, there are a lot of older production models. It's a real privilege to bring these new cars to the track."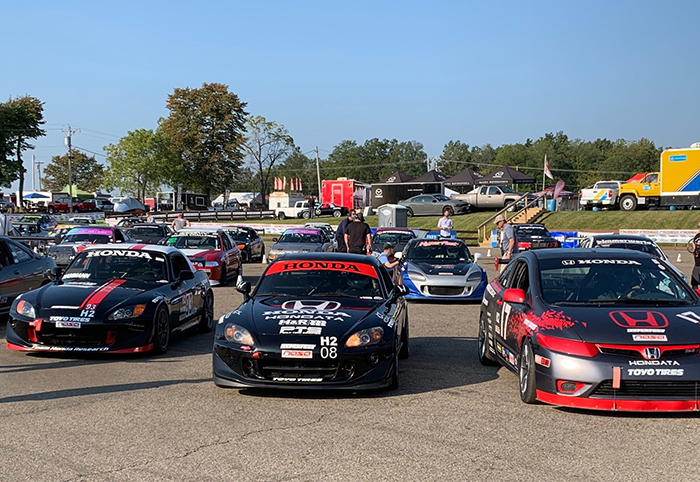 THR

's lineup garnered strong interest among other racers.

For this most recent NASA race, THR brought its cars to the Mid-Ohio Sports Car Course in nearby Lexington, Ohio. NASA holds its national championship at a different track every year. The reaction among THR's onlookers, however, is almost always the same.

"People always come up to us and are so amazed by how well we prepare and maintain these vehicles," Hammann said. "When most teams are having to make last-minute modifications, we are just polishing up."

In fact, Linfield's Civic showed its strongest-ever performance at the race, after being in development for the last three seasons. In his free time—afterhours at HRA—Linfield and his colleagues have collaborated with their colleagues at Honda Performance Development in California to modify the vehicle for racing.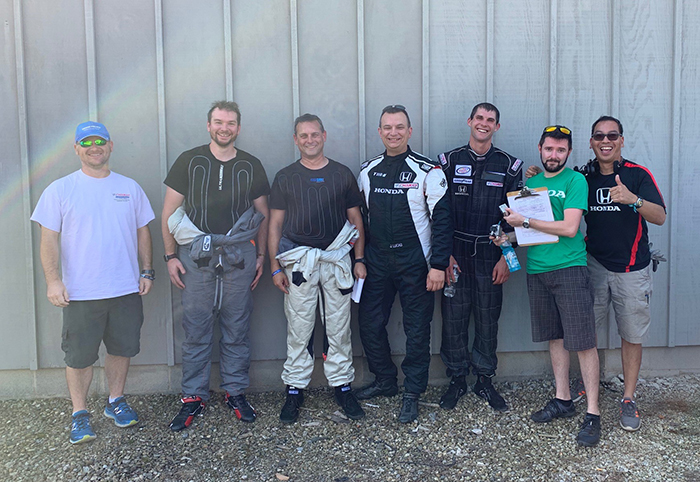 The
THR

team takes a break during the weekend event to pose for a picture. Left to right: Kevin LeClair, Ryan Arens, Brian Shanfeld, Jeremy Lucas, Nic Hammann, Ben Linfield, and Clifton Ching.

"All of Honda is tied to racing in some capacity," explained Jeremy Lucas, a THR driver and 18-year racing veteran. "What makes THR special is the bonds that we form between groups throughout the entire organization that otherwise wouldn't have the chance to connect."

Hammann agreed, with a fitting metaphor for his and his colleagues' NASA experience.

"Honda is really like a family, and THR proves that," he said. "The following and support of everyone at HRA meant the world to us."